Yes this is possible.
The password policy can be set from the following screen.
Settings > Other > Options > Company info > Password policy settings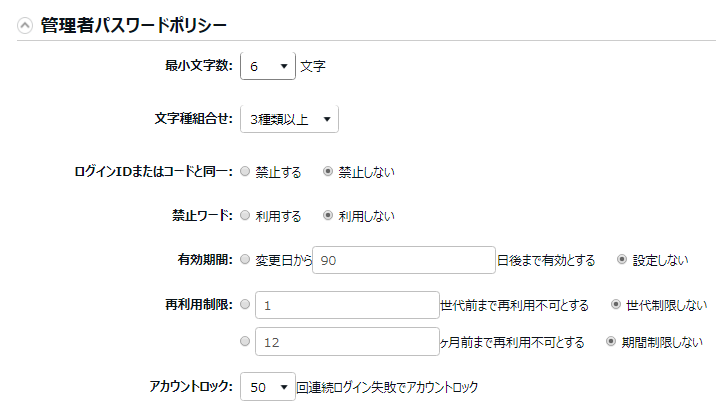 If you want to set the password policy but the corresponding item is not displayed, please contact us from the inquiry form .
How to set a password policy
In "Admin Password Policy", set the password policy for the login password of all-rights administrator and general administrator .
"Employee Password Policy" sets the password policy for employee passwords.
The setting items are explained below.
Item name
Description
Minimum number of characters

Set the minimum number of digits that can be set in the password.

Combination of character type

The character types refer to the following 4 types.

Half-width uppercase letters

Single-byte lowercase letters

Number

symbol

No restriction: A password can be set even if there is only one character type.
2-4 types or more: It is necessary to set a password that is a mixture of 2-4 or more types among the above 4 types.
Same as Sign-in ID or Code


Select whether to prohibit setting the same password as login ID, administrator code, and employee code.



The administrator login ID consists of "company code" + "1" + "administrator code".



The employee login ID consists of "company code" + "3" + "employee code".

Prohibited word
When you select "Use", the entry field for "Prohibited word registration" is displayed at the bottom of the screen.



You can register easy-to-guess simple character strings such as "123456" and "password" in the prohibited words.

Effective period

Set the period for which the password can be used. If you log in after the expiration date, the password change screen will be displayed when you log in.

Restriction on re-usability

When changing the password, set whether to reuse the password that has been set in the past.

There are two types of control methods: "generation restriction" and "time restriction".



When using generation restriction


Each time you change your password, it is counted as one generation old. The password before the change is judged to be the password before the first generation, and if the password is changed again after that, it is judged to be the password before the second generation. If you set "Cannot be reused up to one generation before", you cannot set the current password again when changing the password.



When using the time limit


Restrict reuse of passwords based on the elapsed time after password setting.




If you set "Reusable until 12 months ago", you cannot set a password that has been set within the past 12 months.

Account lock

Set the allowable number of login failures.

If you fail to log in the number of times set here, the account will be locked.

The management screen, employee screen (time card), and My recorder are targeted.

Click here for unlocking procedure.