Delete "Time Recorder Application" and "Authentication Software" from "Uninstall a program" or "Programs and Features" in Control Panel . You may need to restart after uninstalling.
Time recorder application
Uninstall the software named TIME RECORDER[KING OF TIME].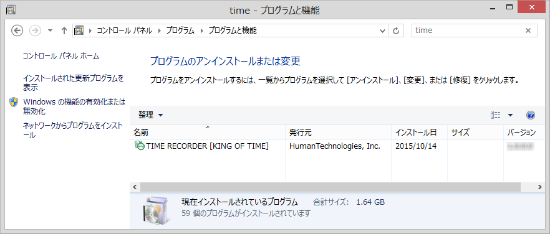 Authentication software
The software varies depending on the certification reader.
Finger hybrid reader
HF-PID-BSP-Runtime *32bit PC

HF-PID-BSP-Runtime WOW64 *64bit PC

Windows driver package-NEC Corporation (HS1_drv) Biometric
Finger vein reader
Hitachi finger vein authentication system
Fingerprint reader
DigitalPersona Data Format Conversion RTE

DigitalPersona One Touch for WindowsRTE
IC reader
Password authentication
There is no certification software in particular.