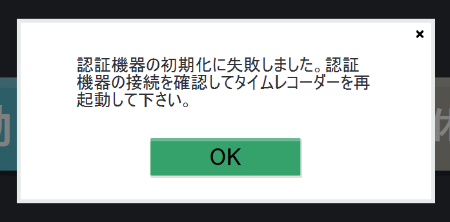 If the error message "Failed to format the authentication device. Please check the connection of the authentication device and restart the time recorder." It is mainly due to the following causes.
Authentication reader is not connected
Authentication reader is connected but not recognized
Driver not installed
Incorrect connection string
Below are the details and countermeasures for each.
Authentication reader is not connected to PC
An error will occur if you start up without connecting the authentication reader.
Please try starting the time recorder after connecting the authentication reader.
Authentication reader is not recognized
An error will also occur if the authentication reader is connected to the PC but is not recognized normally due to poor contact.
It may be solved by reconnecting the authentication device and restarting the time recorder. It is also effective to change the USB outlet.
Also, if you connect via USB through a hub, the reader may not function due to insufficient power supply. In this case, please connect it to the USB port of the PC or use a self-powered hub.
Driver not installed
The same error message is displayed when accessing the time recorder URL without installing the driver .
Please install each driver (authentication software) according to the procedure of the time recorder manual .
Incorrect connection string
The "connection string" depends on the type of authentication device. An error will occur if you connect a different type of reader to the authentication device you have set up.
For example, if you connect a hybrid reader to a time recorder that reads the connection string for fingerprint authentication, the corresponding error will appear.
You can check which authentication device the time recorder is set up by opening [Settings] in the upper right corner of the time recorder application and selecting "Authentication method" in the lower left corner of the screen.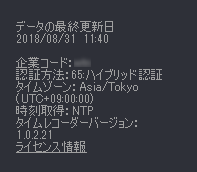 If the type of authentication device is different, the action method is as follows.
Log in to the management screen and set the home screen > Organization > Time recorder settings> Select [Edit]> [Approval Device] and select the correct authentication device to register.


Similarly, copy the correct "connection string" from [Send time recorder URL] in the time recorder settings.


Open [Settings] at the top right of the time recorder application and select the [Change Connection] menu.



Paste the correct connection string copied in the "Time recorder connection string setting" field and replace it with the incorrect one. Finally, click [Save].
If that doesn't work
Please contact the support center.