When the " paid leave grant function " is used, the number of days granted is calculated based on the past one year's attendance record before the grant date, so the system may not operate correctly in the first year after the system is installed. Also, it is not possible to automatically grant paid holidays retroactively to the past grant date.
For this reason, please use leave management to determine the number of remaining days immediately after the introduction.
Details
1. Click All Menu > Leave Management > [View]> [Details] for each employee.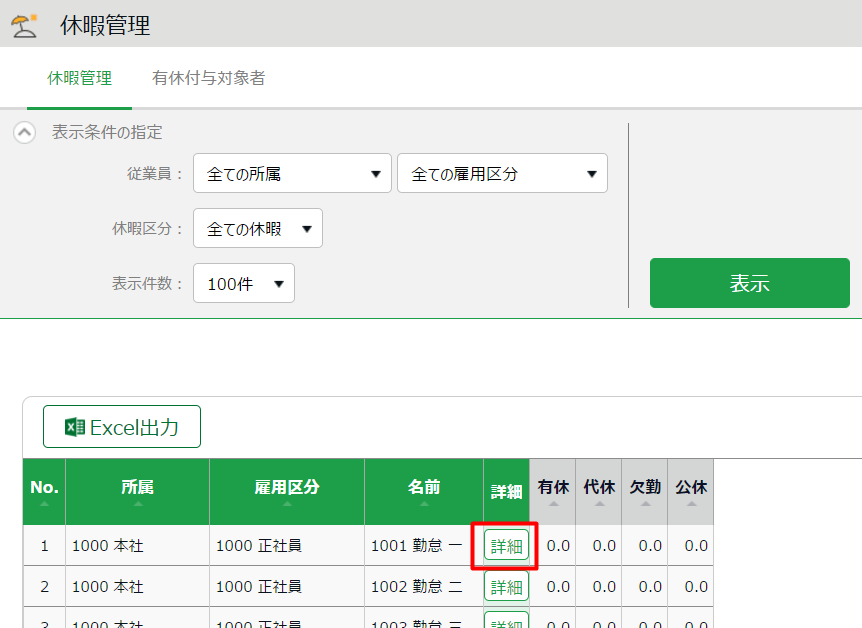 2. Click the [<] [>] buttons to select and display the year you want to grant, and then click the row for paid leave (subtraction type).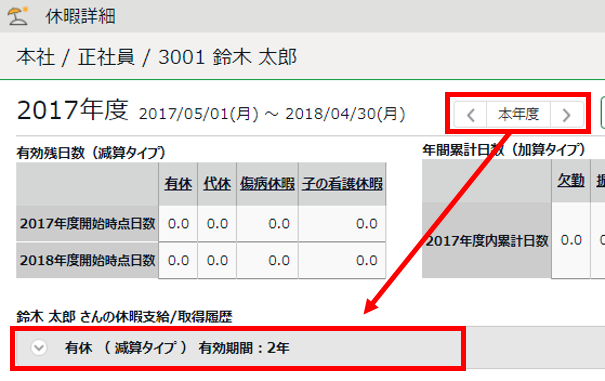 3. Enter the grant date and the number of grant days and click [Save].
Grant date
Enter the date retroactively.


Grant days
Enter the number of valid remaining days granted on that date.

* Vacation registration can only be performed by a Master administrator or an administrator who has the authority to set employees (○ view / edit).
Note
If the validity period is two years and there is a balance carried over from the previous year, you need to register twice each year.
Example) Introducing this system from December 1, 2019
Attendance Hanako Granted paid holidays: April 1st, 40 days of paid holidays
1nd: Granted 20th April 1, 2018

2nd: Granted 20th April 2, 2019

40 days of paid holidays at the moment

The above procedure can also be performed by importing CSV data.