Yes this is possible.
Currently, there are two types of vacation acquisition methods: schedule pattern setting and leave type setting. The settings differ depending on which method you are using, so first check the article below to see which one your environment corresponds to.
※ The default when issuing an account after June 16, 2020 is "Use leave type setting".
Reference article: How to apply leaves. How can you distinguish between "use pattern" and "use leave type"?
Table of contents
When using vacation method "use pattern"
Create a vacation pattern that digests vacations by 0.5 days and register this pattern on that day.
Preset
Setting conditions
Settings > Schedule > Leave type setting
On the screen above, the relevant leave type must be set to "apply half day vacation".
Setting method
1. Click [Register] in Settings> Schedule> Pattern settings .
2. Enter the following information to register.
Item name
Description
Schedule pattern code
Any
Pattern name
Any
*Example: "0.5/holiday 0.5"
Schedule type
Select "All day vacation".
Vacation unit
Select "All day (half day x 2)".
Leave type
Select different vacation categories for "AM" and "PM".

* Even if the morning and afternoon are reversed, it does not particularly affect the acquisition result.
For example, when creating a pattern with "holiday" and "substitute", the following two settings can be made.

・"Public holiday" in the morning, "Substitute holiday" in the afternoon
・"Closed" in the morning and "holiday" in the afternoon

No matter which pattern you use, the counts are 0.5 days each, so you don't need to create two patterns with alternating AM and PM.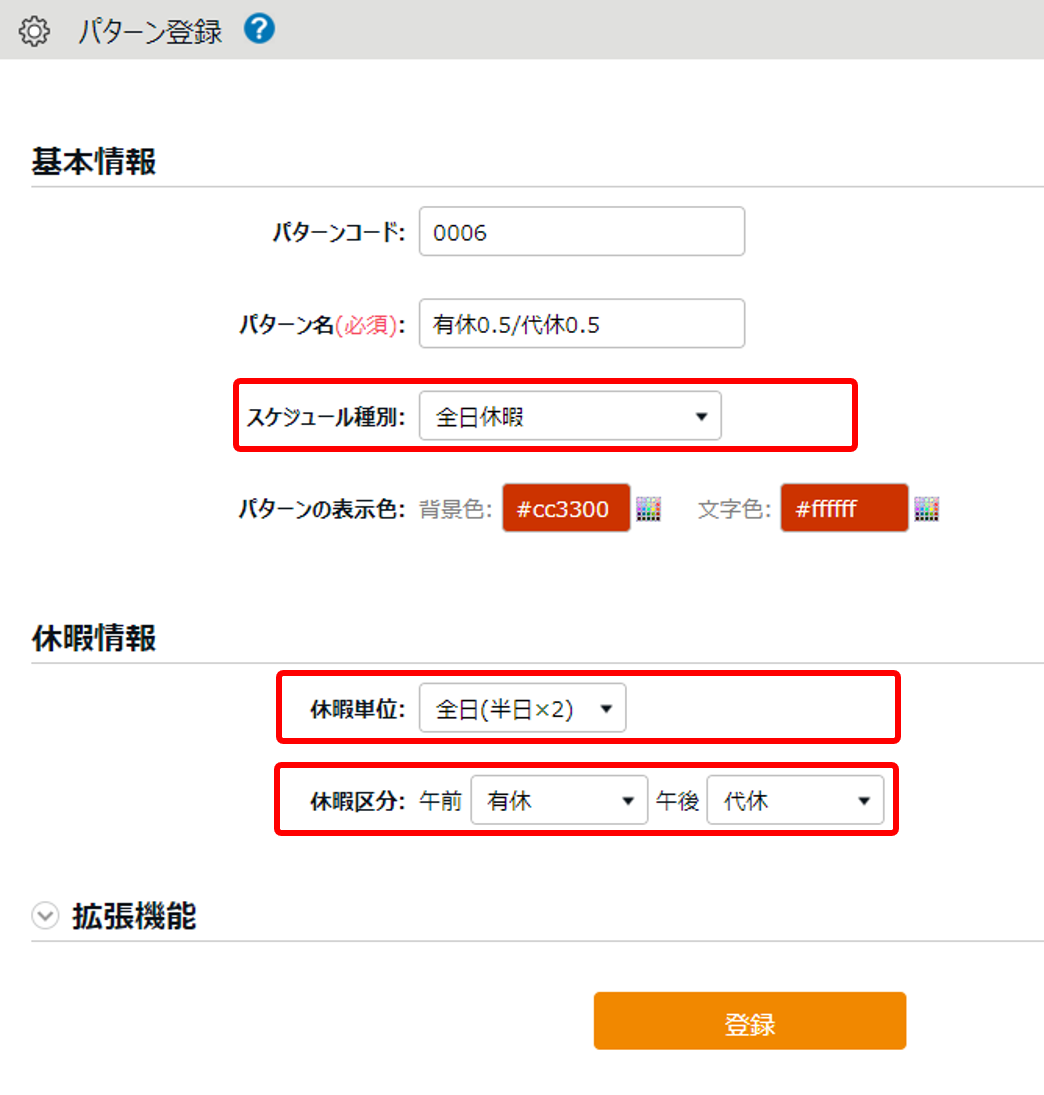 How to apply the leave
Please register the pattern created above on the leave acquisition date. 2 types of leave each 0.5 days will be consumed.
When using vacation method "use leave type"
Create two or more types of vacation categories for which you can take half a day off, and register them in the morning and afternoon of the relevant day.
Preset
Setting method
Settings > Schedule > Leave type setting
It is a condition that the corresponding vacation category is set as follows on the above screen.
Must be set to "use half-holiday"
Schedule application for vacation category only must be "Applyable by entering only vacation category"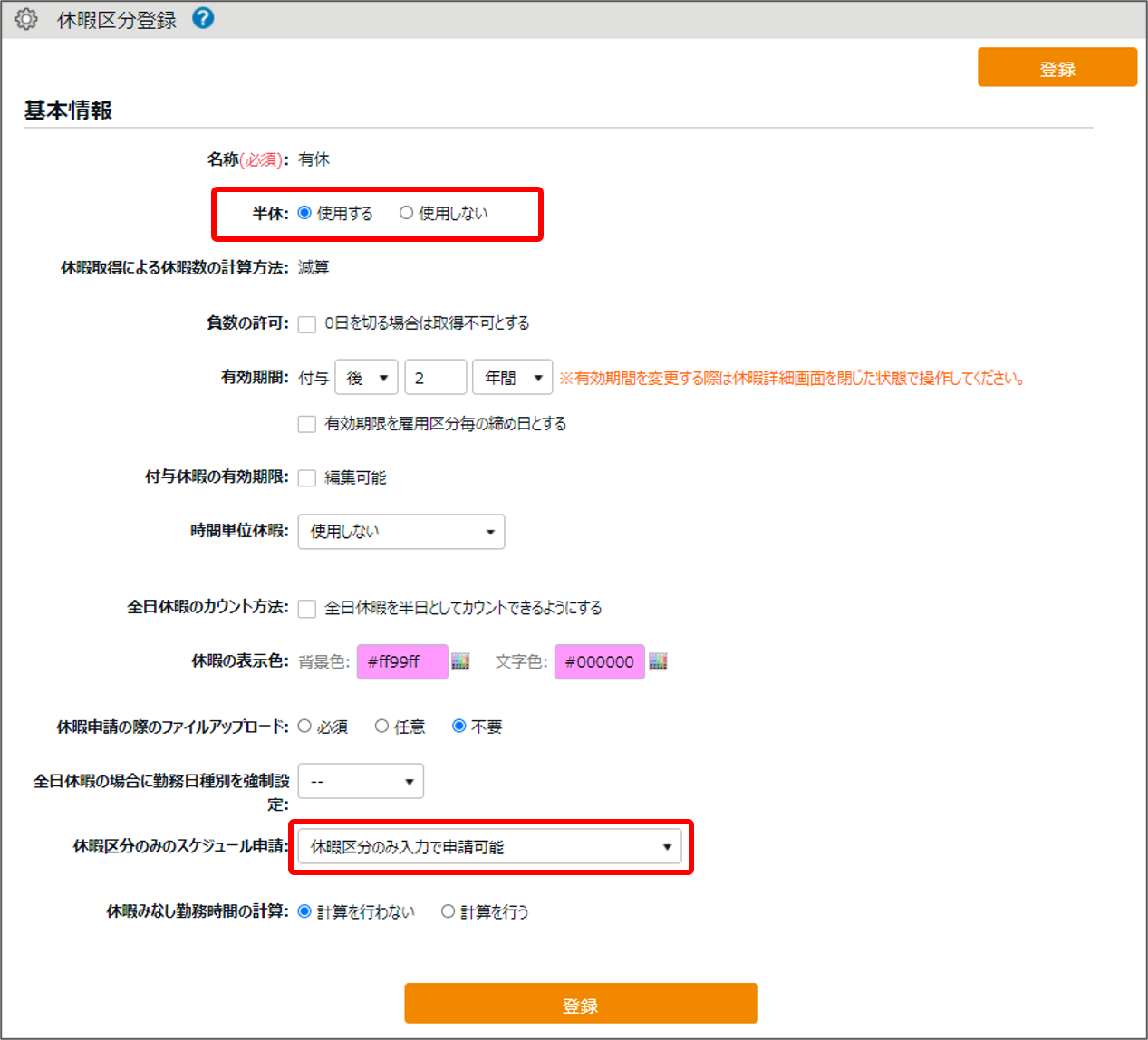 How to apply the leave
Register the vacation category created above on the vacation acquisition date.
1. Select AM half-holiday in the vacation category you want to take, and then click the [Add vacation] button.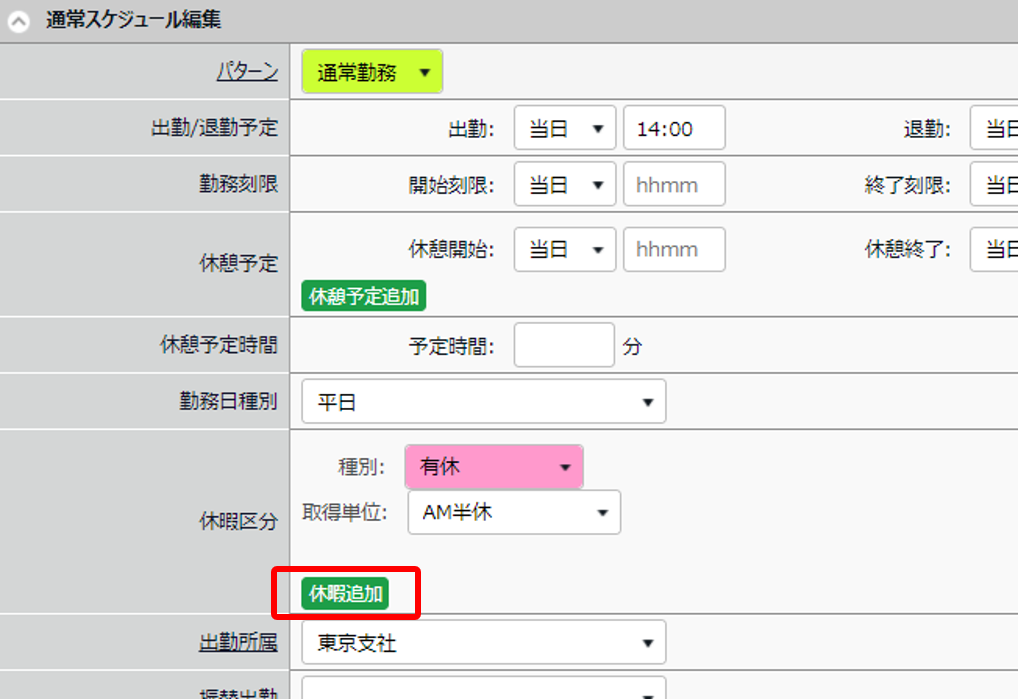 2. If you select PM half-holiday in another vacation category, you can spend half a day off from each.