The forecast function is a function that allows you to compare and confirm the difference between the planned work summary and the actual work summary.
Details
To use it, you need to select "Use " in Settings > Other > Options > "Schedule Settings"> "Plan/actual functions".
When "Apply" is set, the following menu will be added.
Display switching tab to actual information
When the forecast function is set to "Apply", a tab for displaying forecast information is displayed for daily data , monthly data , and yearly data. .

When you click the "Plan/Actual" tab, the aggregated information is divided into "Plan", "Actual" and "Difference" and displayed.

Note
Settings > Other > Option 

> Attendance management setting> When "Plan/actual functions" is

 

set to "Apply", you can also check the forecast by the time division information.
Display Working Hours display option
If you set the prediction function to "Use", a check box "Show total working hours" appears in All menu> Schedule management.
When this check box is entered and displayed, the display in the "Total" column will change from (Number of people who have entered the schedule)/(Column) Number of days that the event has been entered to the total scheduled work hours of the entered event. It switches.

If you want to display with the check box always checked, change the default value setting .
About the schedule for comparison
If the schedule changes in the middle of the month, you can check the original schedule by registering the schedule for the actual comparison .
Settings > Others > Options > "Schedule settings"> "Preliminary function" > Check "Compare with confirmed schedule" and register.

When you select and display one department in All Menu > Schedule Management , a button called [Display the plan and actual schedule comparison] will be added.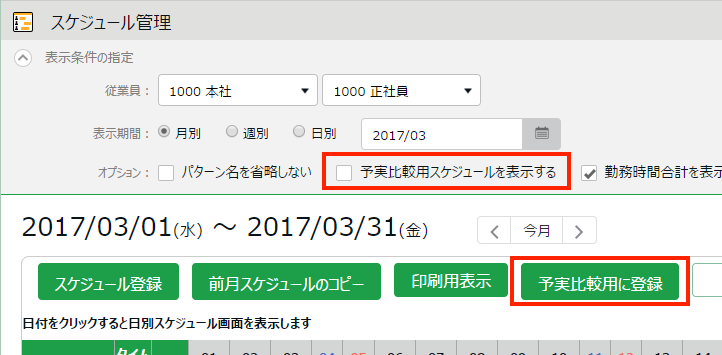 By clicking this button, the currently registered schedule can be registered as the schedule for the comparison between the actual and actual before the change.
Then, if there is a change in the schedule, when you view put a check in the "to display the comparative schedule" in the schedule management screen and monthly data screen, it can be confirmed by switching the comparison for the schedule and the current schedule I will.
*The daily schedule screen does not have a reference function for the schedule for comparing actual and actual results.