◆ All Menu > Export/Import > Data Input (Import)> [Schedule Data [CSV]]
In this operation screen, schedule data is imported as CSV data. When data is imported to the already registered schedule , the target schedule will be updated.
The maximum number of registrations is 10,000 each time.
The import range is 3 months before the import date and 1 year and 1 month thereafter. If you want to register the schedule outside this period, please operate from "Schedule Management".
* In order for general administrator to operate this item, it is necessary to have the view/edit authority of "Schedule Setting" for any of the division and employee types. An error will occur if the import operation is performed on an employee who does not have the authority.
Preset
Create a layout for import in advance.
Click [ Create Input Layout ]> [+ New ] next to [Schedule Data [CSV]] .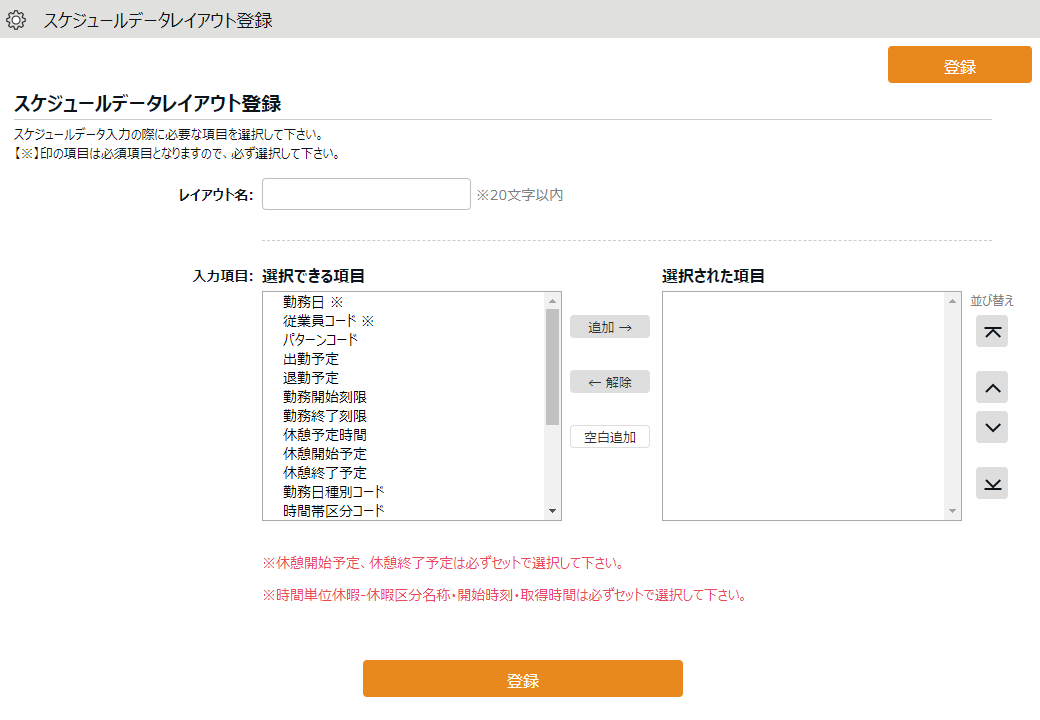 Item name
Description
Layout name
Register the layout name.
Input item
Select the items you want to import when registering the schedule.
Click the item you want to import from the "Available items" and click the [Add →] button. The item displayed in "Items selected" has been added to the layout.

After entering the items, click [Register].
Create CSV data
1. Download the template.
[Schedule data [CSV]]> In "1. Select the input method of schedule data", select the layout created earlier from "Select layout" and click [Download template for input].

The template (CSV format) will be downloaded. Save it on your desktop.
2. Open the saved CSV file with Notepad or Excel and edit it.
Enter the information exactly as in the title line (1st line) and save the file in CSV format.
Input example

For

 

details on

 

how to enter the values and precautions when creating the file

 

, please read "Read first" at the top of the schedule data input screen.
Import
Import the prepared CSV data.
1. Select a layout.
In "1. Select the schedule data input method", select the layout created earlier .
2. Select the processing when the input item is empty.
In "Handling data when the input item is empty" , select the process to be performed when the input item is imported in an empty state for the day when the schedule is already registered.
Leave the registered values as they are... Leave the registered schedule unchanged.

Delete registered value…………Deletes the registered schedule.
3. Select the CSV file you created.
Click [Select File] in "2. Select CSV File" and select the created CSV file.
4. Upload.
Click [Upload] to display the confirmation screen. If there is no problem, click the [Register] button. The import will start.
*If the error list is displayed, you need to correct the CSV file, delete all error elements, and then upload again.