The application for time record is done from the employee time card. You can open the employee time card screen in one of the following ways:
Authenticate using the [Time Card] button on the time recorder

From the login screen, enter the employee ID and PW to log in.
In the "Application" column of the time card screen, click "Time record application".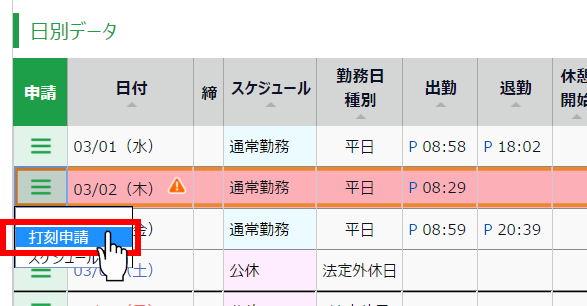 How to apply
Enter the application details and click the [Apply for time record] button to apply.
1. Add time record
If you forgot to clock-in/out, you can add the data from here. In a blank row, specify the "Time-record type" (clock-in, clock-out, etc.) and "Time-record time". Please enter the request message before you submit it.

2. Delete time record
If you have continuously stamped, you can delete the time recorded data. Select the check box in the "Delete" column of the stamp data you want to delete and enter the "request message" to apply.

3. Correction of time record data
For example, if you have mistakenly clocked in instead of clocking out, you can correct the data. Please edit the item you want to correct and enter the Request message before submitting it.