A mobile browser recorder is available.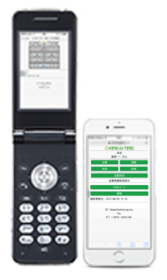 *The display may differ depending on the terminal you are using.
What is a mobile browser recorder?
It is a time recorder that can be used on mobile phones (feature phones) or smartphones.
By accessing the time recorder URL issued by each employee, a personalized time recorder screen is displayed. No application installation required. It is possible to record not only the time but also the position information of the location.
If you bookmark the time recorder screen on your mobile browser, you can start time recording immediately.
False reports can be drastically reduced by displaying location information in addition to verbal location of attendance. You can also manage discretionary work of sales employees and reduce unnecessary actions, which greatly improves time efficiency.
Recommended specs
There are no recommended specifications. You can use it if you have a model with an internet connection. Smartphones are compatible with iPhone, Android and BlackBerry. However, the location information function can only be used with models that support the GPS function or the simple location information function.
Terminal classification
Carrier/OS
Location information usage conditions
feature phone
docomo
Models compatible with open i-area
au
Acquisition of location information by EZ Navi
Models that can use EZ Navi Network type (device:gpsone)
SoftBank
Models that support the location scheme described in the Action attribute of form element
smartphone
iPhone
Browser that supports Geolocation API
Android
Browser that supports Geolocation API
We have not verified the operation on all models.

It cannot be used with some mobile phones (feature phones) that do not support "SHA-2 certificate".
Pre-setting for use
Settings related to location information
Setting "Organization"> Time recorder settings > Select [Obtain location information when time record ] in [Edit]> Mobile browser time-record・My Recorder Settings "Location acquisition mode" in the basic time clock settings or time clock settings by division.

*If you check "Disable time-record when location information cannot be obtained", you will not be able to time record if location information cannot be obtained.
Send time recorder URL
Settings "Employees" > Employee Settings > Select one department and select [View]> [Send Mail]> " Select Email Template " to select "For My Recorder" or "For Mobile Browser Engraving" And click [Reflect].
Select the employees to be sent in " Select E-mail Destination " and click the [Send E-mail] button to send them all at once.
*Please register the email address for each employee in advance.

Time recorder method
On your mobile device, access the URL described in the received "Notice of My Recorder URL" or "Notice of time recorder URL for mobile browser".
* If you receive the "My Recorder URL Notice" , please access the URL that says [When accessing from a mobile phone other than a smartphone].
By pressing various buttons, it is possible to check and check the time.
Clock in
Press when attending work.


Clock out
Press when leaving work.


Start break
Press to start the break.


End break
Press when finishing the break.


Attendance
The time recorded data of the day is displayed.


Time card
Move to the time card screen.


Update


Refresh the screen.