What is division
It is a management unit such as a store, office, or branch. Basically, create it for each time recorder installation unit.
However, further consideration is required when using the application approval function. This is because the application approval flow is created for each department. If the approver differs depending on the department, team, or position , divide the division by the unit of the application approval flow.
Settings
From Settings> Organization> Division settings , perform new registration and editing.
[Create new]
Register a new division.
[Edit]
Edit the registered division.
[Delete]
Delete the division. If there is an employee in that group, you cannot delete it.
Create new screen
Click [Create new] or [Edit] to open the registration screen. After entering the information, click the [Save] button to save the settings.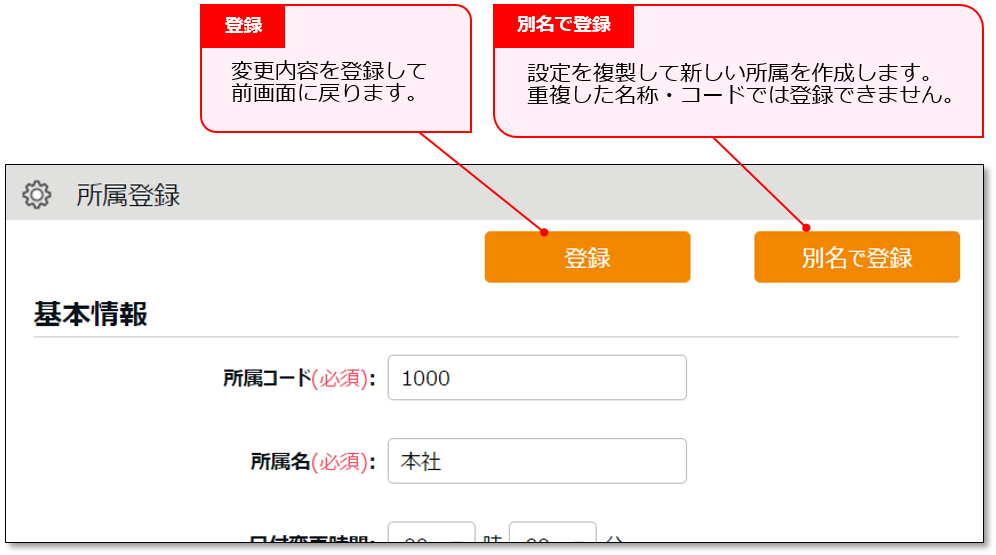 Setting items
Item name
Description
Division code

Register the code that identifies your division.




Please enter 3 to 10 alphanumeric characters.




*You cannot register a code that duplicates with other departments.




* You can use "- (hyphen)" and "_ (underscore)".

Division name

Register the name of your division. Please enter within 50 characters.




It is displayed on the work data screen, time card, etc.




*Please note that the maximum number of characters that can be displayed in the affiliation display field when outputting a PDF time card is 16 characters.

Time of date change

"Attendance records" before this time is treated as the previous day's stamp.




As a general rule, "leave work time record" and "b reak start / end time record" are recorded on the same day as the immediately preceding work time record. However, if the work time record is not found within 48 hours, the time record date will be determined in consideration of the date change time.




* Even if there is a time stamp within 48 hours, the time stamps for "leave time stamp" and "break start/end time stamps" will be decided in consideration of the date change time even if the time stamp is within 48 hours.

Display language

You can select from the following.

Japanese
English
Follow browser settings (Accept-Language): Depends on the language setting of the browser used.
Follow option settings: Settings> Others> Depends on display language set in options.




When the display language of the employee type setting is "Follow division settings", this setting is referenced.

Also, change the display language of the following time recorder.

91: Cloud recorder

Internet Explorer Time Recorder