Yes this is possible.
By setting the " Unsubmitted overtime notification function ", you can be notified by e-mail if you have not applied for overtime or the overtime application has not been approved. It is also possible to notify the smartphone app (for employees).
Setting method
1. Access Settings > Others > Notification Settings > "Notification of Unsubmitted Overtime" tab and set the following items.
Notification 1-3 : Set the notification time. You can notify up to 3 times a day. For example, if you want to be notified twice a day, check "Notification 1" and "Notification 2" and set the notification time for each.
* "09:00" and "09:30" cannot be selected to reduce the server load.
* Only available in Japan time. Please note that time zones other than Japan time are not supported.
Unsubmitted overtime : Set how many minutes or more of unapplied overtime you want to be notified.
Re-notification period : Set how many days in the past you are eligible for attendance. You can select up to 30 days.
Notification to KING OF TIME app: If checked, you will be notified not only by email but also by smartphone app.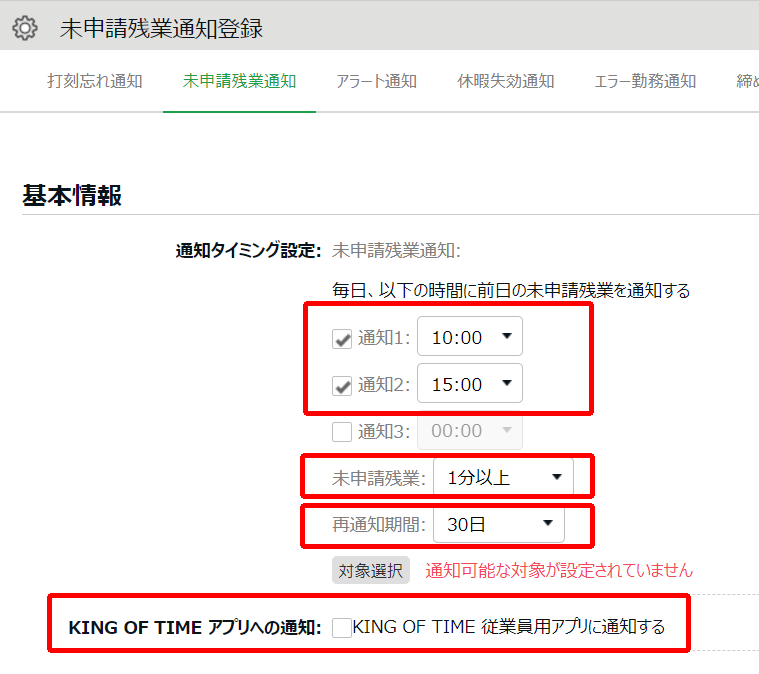 2. Set the notification target. Click [Select Target].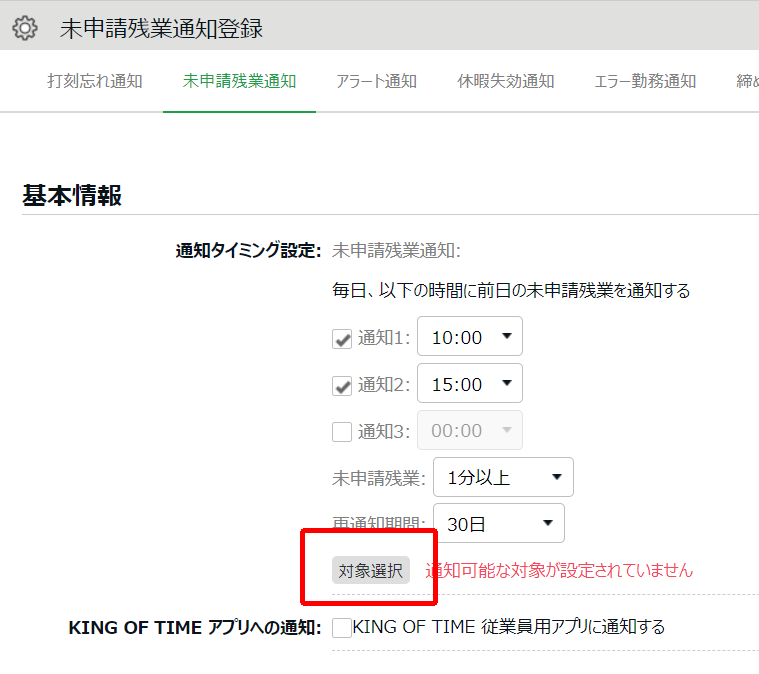 3. Click [New Registration]> Set the following items and click [Register].
Target division : Select the division of the target to be notified. You can select multiple divisions.
Employee type : Select the employee type to be notified. You can select multiple employee types.
Email notification to employees: Select whether to notify employees. If you have checked "Notify to KING OF TIME app" on the previous screen, you will be notified not only by email but also by smartphone app.
Email notification to administrator: Select the administrator to notify. You can select multiple administrators.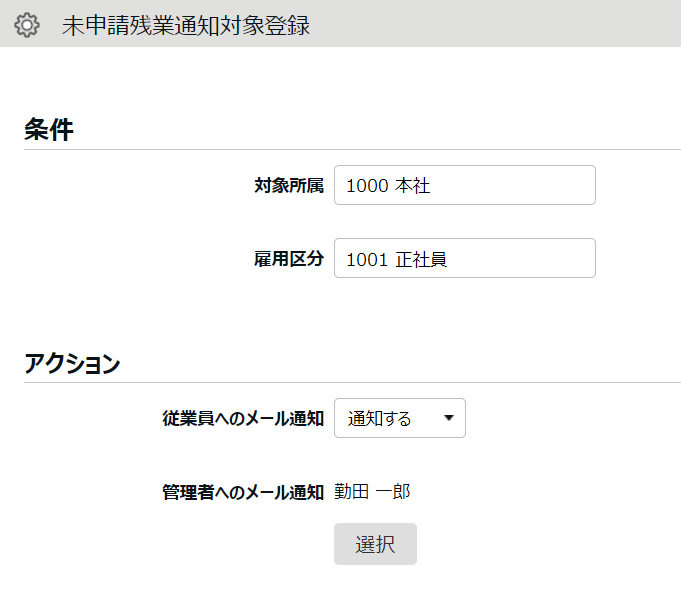 "Priority" of unsubmitted overtime notification target setting
If you set multiple notification targets, you can set the priority. By setting the priority, it becomes possible to realize "notify different managers for each department" and "not notify only some employees".
① Select [∧] [v] and change the priority.
(2) Click the [Save Priority] button to save the changes.

* The priority will be checked in order from the top and the one that matches the employee's division and employee type will be applied. Therefore, for the order of priority, it is necessary to move the "Notification target setting" (eg, narrowing down division, narrowing down employee type, etc.) that is set in detail to the top.