We read a 16-digit code called "IC card UID" or "FeliCa IDm". These are collectively referred to as "IC card UID" on the management screen.
"FeliCa IDm" or "Mifare UID" is the information stored in the chip inside the card and is not written on the surface of the card.
IC card UID confirmation method
The method to check the IC card UID of the employee who registered the card with this system is as follows.
Management screen TOP Common menu " Export/Import> >
Data output (export) [Employee data [CSV]]>
Select the target division and employee type [Data output]
When the employee data is exported, the employee data (name, date of hire, employee type, etc.) is output. The corresponding code is "IC card UID" or "FeliCa IDm" in the output data.
Example: IC card UID when exporting employee data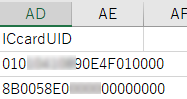 Notes on import
When data is exported from the IC card UID that has been certified and registered from the IC card reader, it will be exported as " 20 digits ".
Normally, it is 16 digits, but in order to distinguish whether it is "ICcard UID" or "FeliCa IDm" in the system, " ICcard UID" is 16 digits + 0000, totaling 20 digits .
However, when registering "ICcard UID" by import, it is not necessary to distinguish because it is registered with the item "ICcard UID registration". Therefore, the import can be left as "16 digits" without any problem.
* Please refer here for import registration of "IC card UID" .