I will explain the settings for time record the clock-in / clock-out with the time recorder.
The time from the start of going out to the end of going out is included in working hours . Also, "offsite hours" cannot be totaled. Click here for details on the total of off site time .
For example, if you have work at two stores and you want to move during working hours, you want to include the travel time in the working hours of either store.
please note
To use this function, internal settings by the support center are required. If you want to use it, please ask the support center to add the "offsite time record function".

Display the time record on the time recorder
The following time recorder can display an offsite time record button. I will explain the procedure for displaying the offsite button.
Windows desktop version time recorder

iPad version time clock (face authentication / chameleon code authentication)

Cloud recorder

My recorder
1. Log in to the management screen and click Settings> Organization> Time Clock Settings .
2. Click the [Edit] button of "Basic time recorder settings" if you want to set for the entire company, or click the [Edit] button of "Time clock settings by division" if you want to change the settings for each divsion.
3. Select [Edit]> "Start offsite" and "End offsite " in "Time record button settings" to switch between display and non-display.
4. When you restart the time recorder, the " start offsite/ end offstie" button will be displayed.
For Windows desktop time clock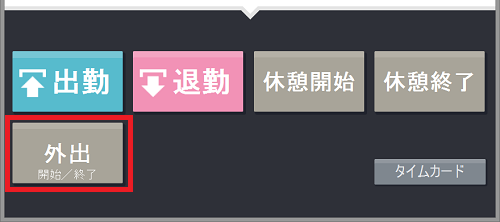 ↓ ↓ ↓ ↓