In explaining this matter, the mechanism of time adjustment of the desktop version time recorder. The desktop version of time recorder, perform the time setting with the following timing.
When you start the time recorder

About 60 minutes after startup (automatic update)

When data is updated by clicking the "Data update" item on the setting screen
The time used as the reference for time adjustment is one of the following.
Public NTP host (specified NTP host if specified arbitrarily on the management screen)

Server of this system

Local PC time (when offline)
Basically, the time is adjusted based on the NTP host, but if it is not possible to connect to the NTP host due to restrictions such as network settings , the server of this system is used as the standard.
You can check the time acquisition method from the support information in the lower left of the time record setting menu.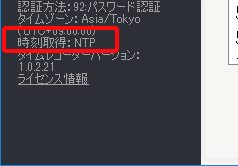 When "Get time" is displayed as "NTP", the time is adjusted based on "NTP host" and when it is displayed as "Server", it is based on "Server of this system". The time of the time clock displayed based on these times is basically considered to be correct.
In this situation, if the time on the PC and the time on the time clock are out of sync, the time set on the PC may be out of sync, so please check and then set the time on the PC. I recommend that.
If your PC's clock frequently shifts, the lithium battery on your PC's motherboard may be exhausted.