Follow the steps below to make the settings.
Validity period setting procedure
1. Click Settings> Schedule> Leave type Settings.
2. Click Edit for the leave type you want to set for the validity period.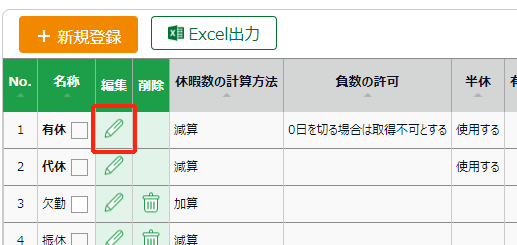 3. Change the setting in the "Effective period" item. The validity period can be set to either "◯ days", "◯ months", or "◯ years".
* Indefinite period cannot be set.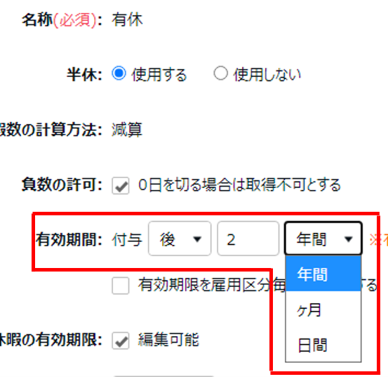 4. Finally, click [Registration] to complete the setting.
Point 1
Below the field for entering the effective period, there is a check box that says "Regard Expiry Date as employee type's closing day".

The validity period changes as follows depending on whether or not this check box is selected.
Requirement
Validity period: "2 years" after grant
Employee type: end of month
If unchecked
Granted on November 15, 2018 → Expiration date: November 15, 2018 ~ December 14, 2020
If checked
Granted on November 15, 2018 → Expiration date: November 15, 2018 ~ 2020/11 / 30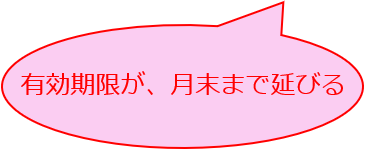 Please use it when you want to align the expiration date with the "deadline".
Point 2
Below the setting item of "Effective period", there is an item called "Leave Expiry Period".

If you check here, you can edit the expiration date of the granted leave type.
Editing method
1. Leave management > Click [Details] for the employee > Click the gray bar of the leave type you want to edit to open it.
2. Click the grant data row.
* In the case of data that has been automatically granted due to "substitute leave", "time-off", etc., the browser message "* You can edit grant time-off data on the applicable date's [Edit work]." will be displayed. Press [OK].
Then, the clicked line turns green and the same grant date, grant days, and expiration date are displayed in the input field (red frame part of the image).
3. Edit the expiration date to the desired date and click Save.

4. Confirm that the expiration date has been edited.

Attention!
If you change the expiration date during use, it will not be automatically reflected in the data given in the past. If you want to reflect the new expiration date setting in the data given in the past, you need to perform the following operations.
Grant type: Substitute leave grant
If the grant type is "substitute leave", "attendance recalculation" is required.

When recalculating attendances, please recalculate within the period including the grant date.
Example
If the grant date is December 14, 2018, the period for recalculating attendance data will be from December 2018 to December 2018.
Grant type: Manual grant, annual paid leave
If the grant type is "Manual Grant" or "Annual Paid leave", you need to re-grant.
​


Click on a row of grant data to turn that row green. Just click [Save] on the right side.