Yes this is possible.
By using the "previous month schedule copy function", you can copy the schedule of the past 5 weeks to the current month.
Functional overview
Copy the schedule from the day 5 weeks before the first day of the month. Therefore, it may be copied including the schedule of the month before last.
For example, with the following settings
Closing date: End of the month
Target month: October
Copy the schedule after August 27th (Friday), which goes back 5 weeks from October 1st (Friday).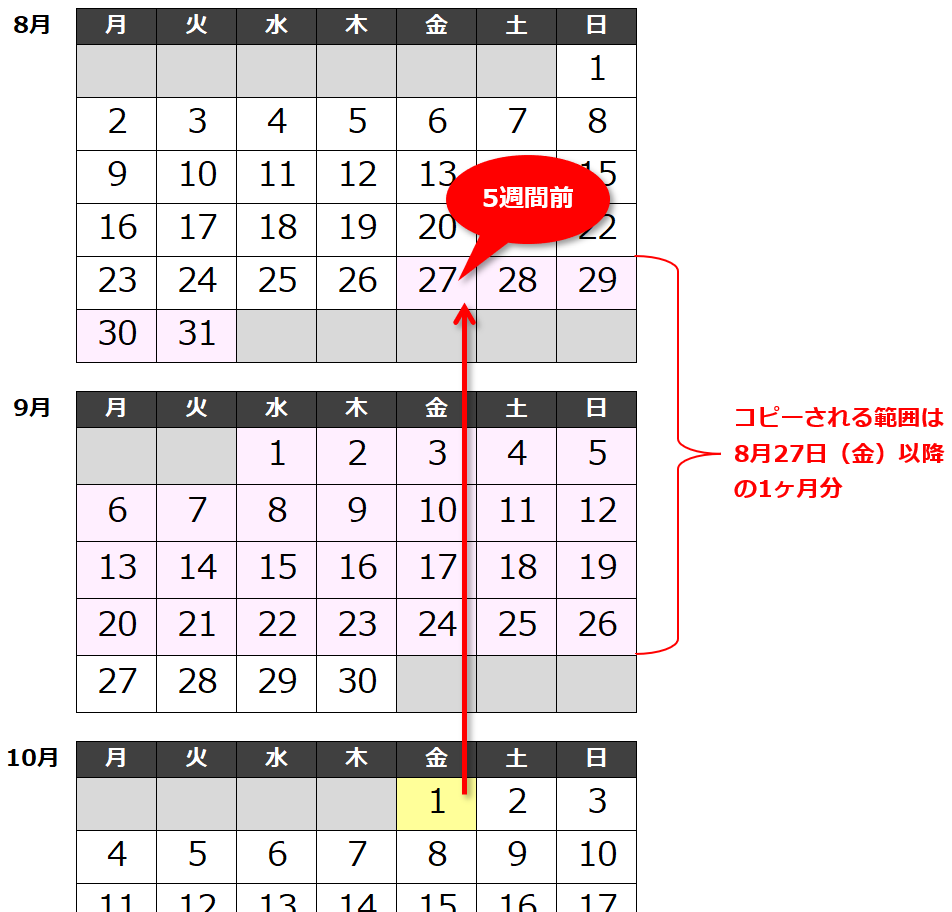 How to operate
1. If you display with one division selected on the All menu> Schedule management screen, the [Copy previous month's schedule] button will be displayed. Click it.
2. Display the image when copying the schedule for the past 5 weeks. Click the [Register] button to copy the displayed schedule. Select the [Back] button to return to the original screen without doing anything.
Setting items
title
explanation
Items to be included in the items to be copied
Select whether to include the following items in the copy target as well. If unchecked, these items will not be copied.

・ Half-holiday type
・ Upper limit of overtime 

※


・ Automatic break disabled
·remarks



* The "Overtime limit" item is displayed when the overtime limit limit function is used.

Handling of closed days
Select whether to perform scheduled copy for the day when the closing process is completed.
Handling of business schedule
Select whether to copy the business schedule.


* Displayed when using the business management function (switching at the support center is required to use the business management function).
please note
・ Leaves with vacation categories of "paid leave" and "paid leave" will not be copied.
・ It will not be copied on the day when it is already stamped.


-It will not be copied on the day when the schedule has already been assigned.




After deleting the pattern, perform "schedule copy of the previous month".