◆ All menu > Work data > Daily data
This screen displays a list of daily work status.
Detailed description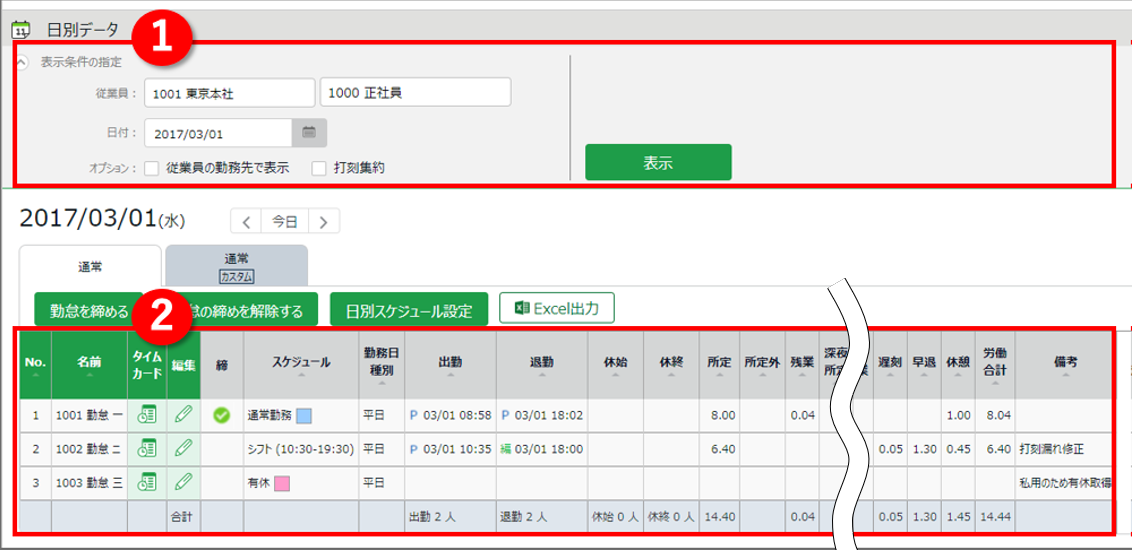 (1)Specifying display conditions
Specify the division, employee type, display date, etc. Click the [Show] button to display the data.
※option
Display by employee work location
Check the data of the employees who work in the selected division.


Gather time record
The time record data is displayed in one cell.
(2)Daily data
Check the time record data, schedule, and automatically calculated time evaluations registered on that day.
How to check daily data

Item name
Description
Closed
「The check mark () Is displayed.


Schedule
Shows attendance schedule or leave acquisition.
「The pattern name is displayed when " Schedule pattern " is registered, and "Shift" is displayed when the scheduled time that is not registered is registered.
Work day type
" Working day type " of the day is displayed.

Clock in/ Clock out

The time record and recording method are displayed.

Display example of embossing method:


HB

... Finger Hybrid Reader BT-2000


Shizu

……fingerprint reader


Finger:

fingerprint reader


IC

… IC Card Reader/Pit Touch Series


CC

… Chameleon code recorder


P

...... Password authentication


C

…… Click authentication (without password) *


Mobile phone

: Engraving with a smartphone or mobile phone


Position:

Imprinting the position information


A:

Time record from an external system using the Web API service


Hen:

Editing and time record


Sure

...... application approval embossing
Remark
You can enter remarks on the work data edit screen .
You can also select whether or not to reflect the application message in the notes when approving the application .
*If you do not acquire location information with My Recorder or only time record without entering a password, you will get "click authentication".
Note
Click here 

for

 definitions of time items 

.
Various operations
The following operations can be performed on the daily data screen.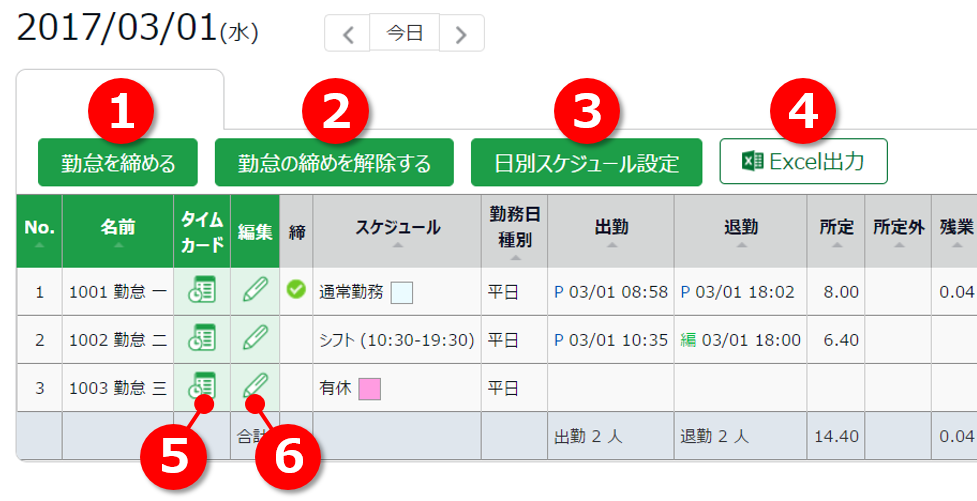 (1)Close attendance
Close attendances for employees.
*Displayed only to administrators with closing authority.
(2)Cancel closing attendance
Closed attendances are released .
*Displayed only to administrators with closing authority.
(3)Daily schedule setting
Check and edit the schedule of the day by division.
Please refer to "Register daily schedule for each division" for the operation method .
* Displayed when only one department is selected and displayed.
*Displayed only to administrators who have administrative privileges for the schedule.
(4)Excel output
Download the daily data screen in Excel format.
*Displayed only to administrators with data output authority.
(5)Time-card custom
Open the time card screen.
(6)Edit
Open the work data edit screen.