On any of the screens below, you can check the schedule, revision of stamps, and history of approval / rejection of applications.
Please use it to check the attendance data before it is edited.
Check the edit history of the day
You can see what edits have been made for a day.
1. Daily data (or monthly data and schedule management )> [Time Card] of the target employee> [Edit] on the day.
2. Click [View edit history] at the top left of the screen. This button is not displayed if there is no edit history.
*Please operate with master administrator or a general administrator who has "read only" or higher authority for "results/engraving" or "schedule management".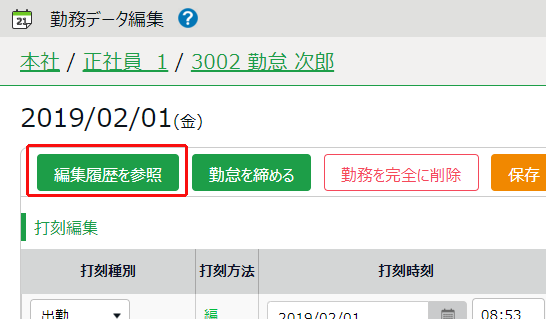 3. You can see which administrator made what and when.

Check the operation history of the administrator
You can check the list of edits, applications, and approvals made by each administrator.
Settings > Administrator settings > Click "Other"> [Edit history reference] of the administrator you want to check.
A list of edit history is displayed for each month.
*Master managers can check the editing history of all managers. General administrators can only see the edit history of their own account.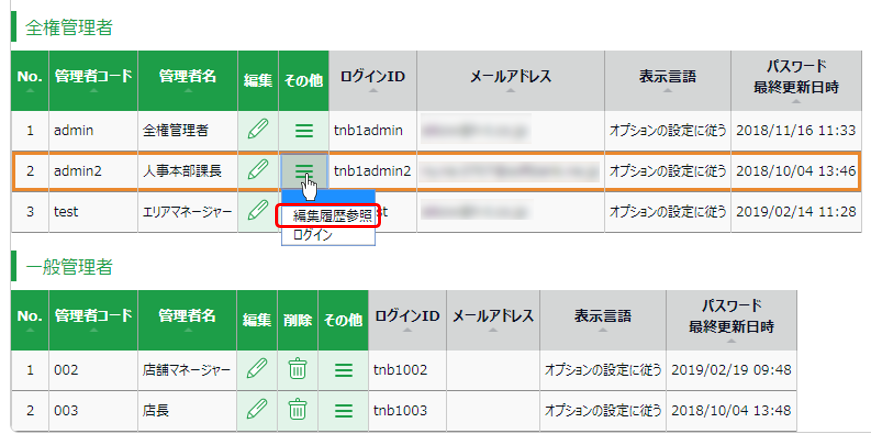 * The editing history that can be viewed is for the past 10 years.