Please log in to PitTouch Biz as follows.
Customers who have set the IP address of the terminal by automatic acquisition (DHCP)
*If you have a fixed IP address for your device, skip steps 1-8 below.
1. Windows Start Menu> [Control Panel]
Select> Network & Internet> View network status and tasks.
2. Go to the [Network and Sharing Center] screen.
From the task on the left side of the screen, select [Change adapter settings].
3. Right-click the [Local Area Connection] icon.
Select [Properties] from the displayed menu.
4. If the [User Account Control] window is displayed, click the [Continue] button.
5. The [Local Area Connection Properties]> [Network] tab screen appears.
Select [Internet Protocol Version 4 (TCP/Ipv4)] and click the [Properties] button.
6. Click [Use the following IP address], and enter [192.168.1.1 in [IP address] and [255.255.255.0 in [Subnet mask].
7. Click the [OK] button.
Terminal connection
8. There is a DIP switch on the back of the terminal. Connect terminals by turning ON 1 and 2.

Refer to the figure below and connect the PitTouch Biz terminal and PC with a LAN cable. It doesn't matter which of the LAN ports you connect to.

Connect the AC adapter and insert the power plug into the outlet as shown in the figure below. After a while, the product will start up.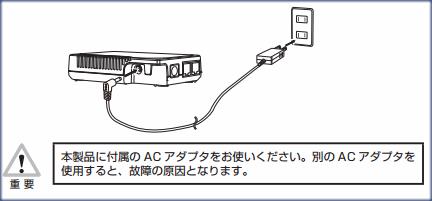 Open the settings page
9. Start your web browser.
10. Enter "192.168.1.2" in the address input field to access.
*If you are using Pit Touch Biz with a fixed IP address, enter the fixed IP after connecting the device to the Internet.
11.Enter admin for the Username and kot for the Password. The setting screen opens.