Click the icon (*≡) at the top right of My Recorder to display the operation menu. Details of each item are as follows.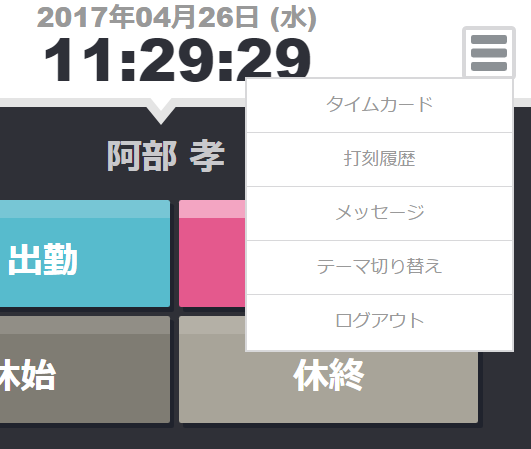 Time-card custom
Click to display the time card.
On the management screen, Settings > Organization > Time recorder settings > Edit icon of the division of the target user → "Display settings" "Display time card button"...
This item is not displayed when is set.
Time record history
The time recorded history made with this browser is displayed. Records recorded by different browsers or other certified readers will not be displayed here. If you clear your browser's cache, it will disappear.
status
Details
OK
The recorded data was sent without any problem.
Save
The recorded data was saved in the browser.
The next time you go online, it will be resent to the server.
Save and send OK
The recorded data saved in the browser was sent to the server without any problem.
Save transmission NG
The time recorded data saved in the browser was not sent to the server.
*If multiple times are recorded at the same time (same time up to seconds), those time records are regarded as double records, and only one time record is sent as a non-trasnmitted time record.
Notifications from the support center such as system maintenance will be displayed.
Switch theme
You are free to choose from two themes. You can enjoy it as an individual. The switching result will be reflected only in that browser.
Log out
Log out. After logging out, you will need to re-enter your ID and password.