◆ All menus > Export/Import > Data output (Export) > [Monthly data [CSV]]
This is a function that can export aggregated data in monthly or selected period (within 3 months) in CSV format. It is used for linkage with salary software.
*This operation can be performed by an administrator who has the "master administrator" or "data import/export" authority.
Preset
Create a layout for export in advance. If it has already been created, the following work is unnecessary.
All menu > Export / import > Data output (Export)> [Monthly data [CSV]] beside " Create output layout "> >[+ New]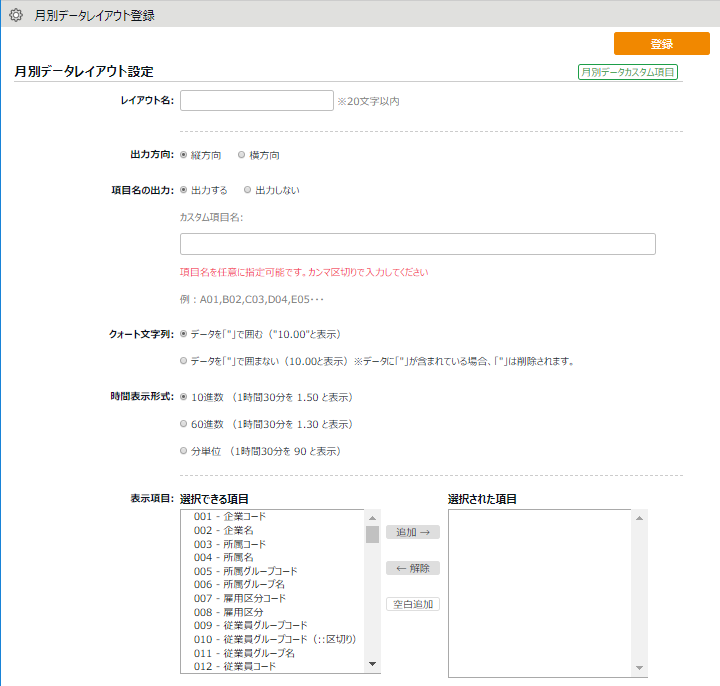 Layout name
Enter a layout name such as "for payroll" (up to 20 characters).


Data Orientation
Select the data orientation. Most payroll software uses portrait orientation.


Export item name


Select whether to add a header line that displays the item name such as given time or overtime.

It is also possible to output

any item name by entering it in the "Custom item name" section separated by commas

. Item name designation from the salary software side

.
*"Fixed working hours" = "KT01", etc.


Quoted string


Select whether or not to output each numerical value enclosed in "" (double quotation)




Time display
Select the display format when exporting with this layout.


Display item


Move the

required items in the salary software from "Available items " on the left side to "Items selected" on the right side

. For areas that require data that cannot be exported with this system.

Click [Add Blank] to skip one item.
*For details on each item, please click here .

After completing the settings for each item, click the [Register] button to save the layout.
Export procedure
Please open the following screen.
All menu > Export / import > Data output (Export)> [Monthly data [CSV]]
Specify the following items as output conditions.
Output applicable date


You can specify the month and date.




Output option
Output at employee's place of work


* The data of employees who have worked for the selected department will also be output.




Select layout
Select an output layout.

Division


The data of the selected department is export. Please combine with the following employee type selection.




Employee type selection


The data of the selected employee type is exported
After selecting the conditions, click the [Output data] button at the bottom of the screen. At this point, the download is not performed and a confirmation screen is displayed. If "Attendance data error " and "Number of unconfirmed request exist" exist on this confirmation screen, accurate aggregation cannot be done.

All menus > Attendance error work
All menu > Application approval

Please confirm the target error and application, and then repeat the above procedure.
If there is no problem in the confirmation screen, click the [Output data] button to export as csv data.