It is a function that allows employees to register the time they want to work from the time card. It can be used for submitting shift requests.
*In order to use, internal settings in the support center are required. Please use the inquiry form to let us know that you would like to use the "working hours setting function".
Details
input method
An [ Edit desired working hours ] button is added to the time card screens of each administrator and employee . Click to enter from the edit screen as shown below.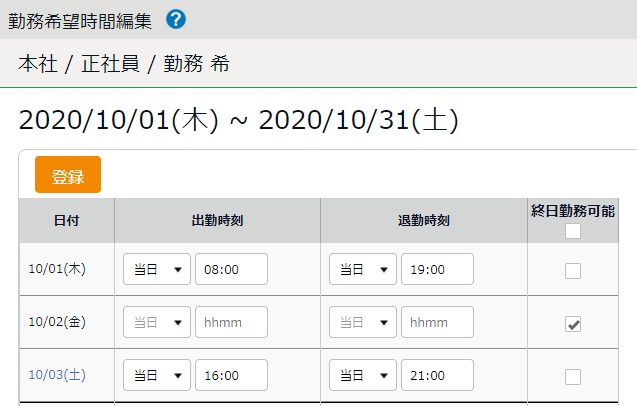 Confirmation method
Confirm on the "Daily schedule setting" screen. Click here for more information about the "Set daily schedule" screen.
On the management screen, select Daily Data> Division, [View]> [Daily data] > [ Options ] , select [Include Time record Time], and click the [Display] button.
The desired working hours registered by the employee are displayed in a yellow bar, which is a guide when editing shifts.

Also, when you enter [Edit], there is an item of "desired time". If you click [Apply], the entered desired working hours will be reflected as it is in the schedule. If you want to confirm the reflected schedule time, click [Save].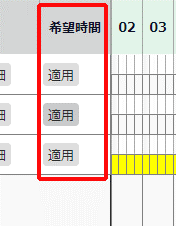 Attention!
The "desired working hours setting function" is a completely different function from the "schedule application function".
The function is " Enter the time zone when the employee wants to work, and the manager creates shifts while visually checking the daily schedule ."
Therefore, it is not possible to notify the administrator by e-mail when the desired working hours are registered. Please check the input status of the desired working hours on a daily basis from the daily schedule.
If it is the desired time for each individual, you can check the desired working hours for one month at once by clicking the time card> [Edit desired working hours] button .