Please confirm the following setting method and perform the linked setting.
Cooperation function
You can link Cyzen attendance data to KING OF TIME as a stamp. Not only attendance but also start and end of breaks can be linked.
Linkage setting method
1. On the Cyzen admin site, click Settings> KING OF TIME> Edit.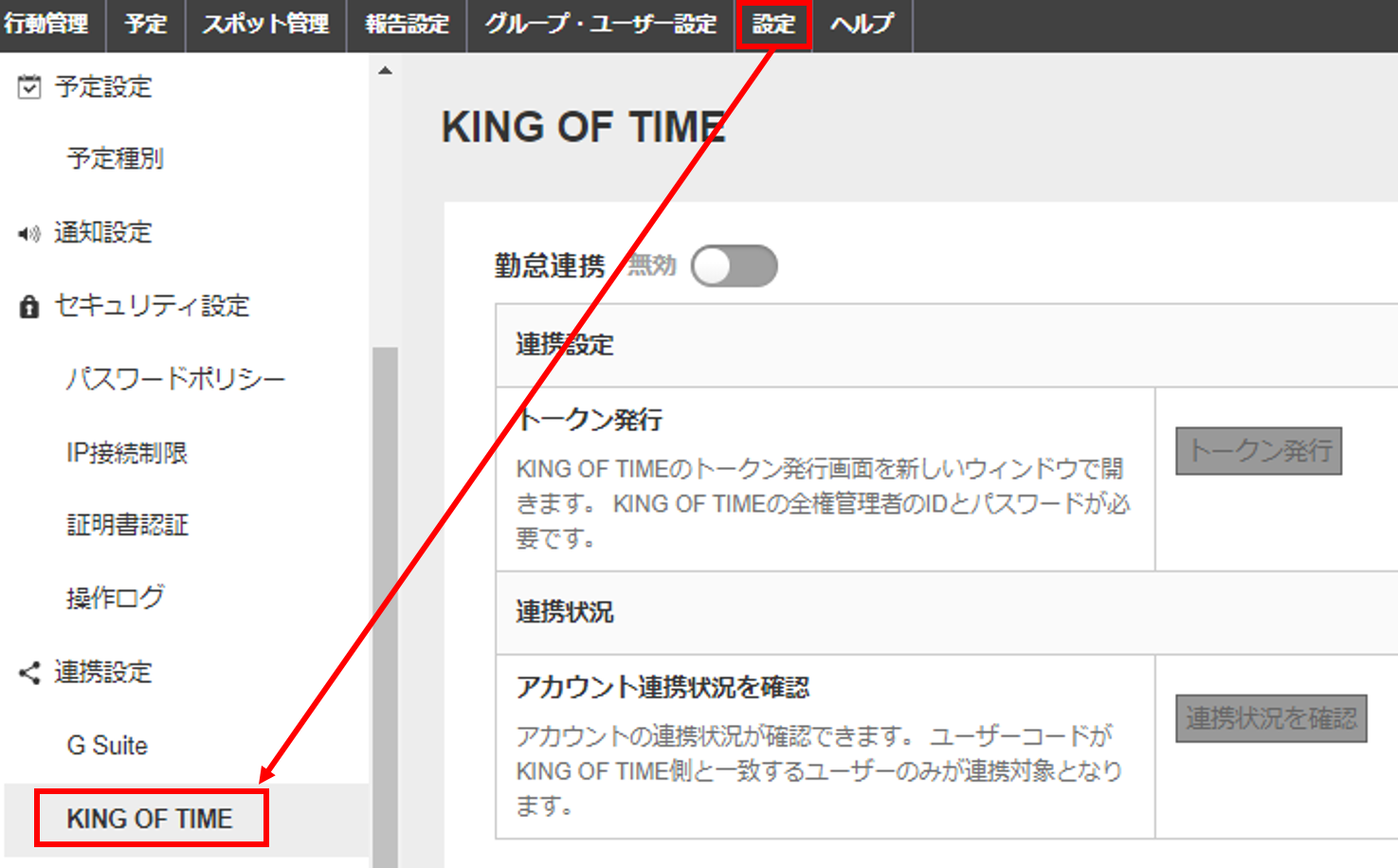 2. Turn on the linkage function.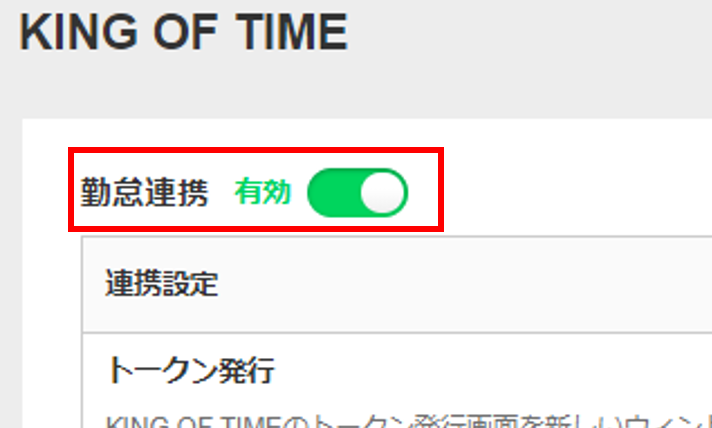 3. Click Linkage Settings> Token Issue> [Token Issue].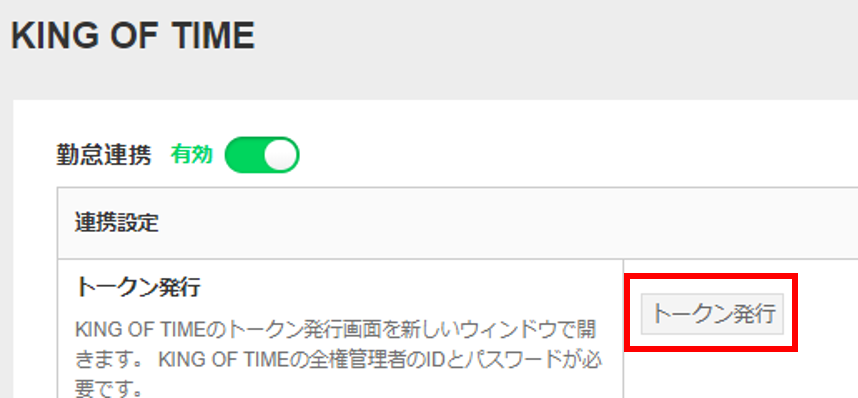 4. The KING OF TIME authentication screen is displayed. Enter the login ID and PW of the full-right administrator (administrator whose login ID is ○○○1admin). Carefully read the terms of use and the agreement, check "I agree and confirm." and click [Accept].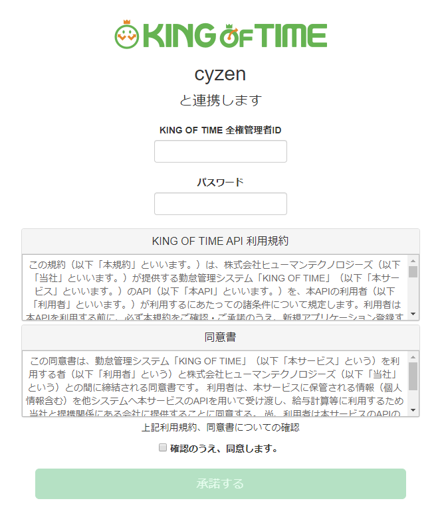 5. If the following screen is displayed, linkage settings are complete.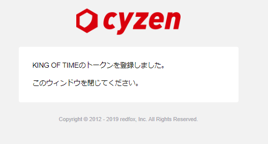 Target employees
Employees with matching KING OF TIME employee code and Cyzen user code are linked. (It will be linked even if the "Last name/first name" of KING OF TIME and the "User name" of Cyzen are different.)

Check the employees to be linked at intervals of about 1 hour. Employees who are linked are displayed in Cyzen> Settings> KING OF TIME> [Check link status]> Link status as "Enabled".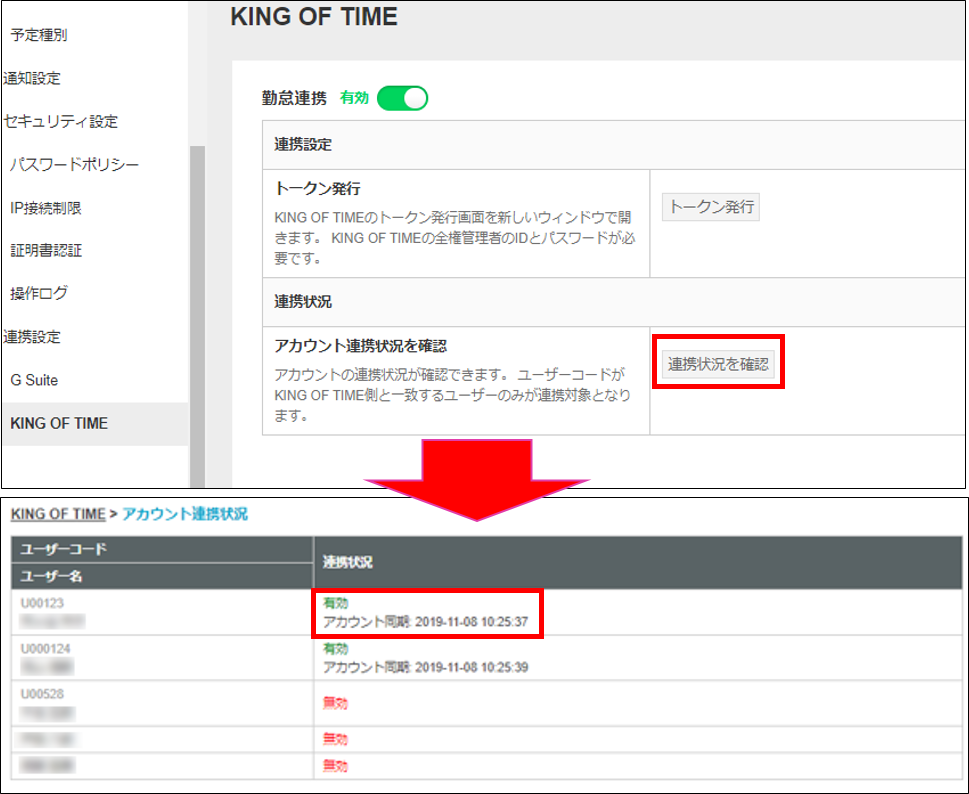 Cooperation method
Automatic cooperation
The time record data of attendance, leaving and rest recorded by Cyzen will be linked to KING OF TIME. It is not linked in real time, and the linking process is performed several times a day.
For example, if you press the start work stamp twice a day on Cyzen, two clock in records will be linked to KING OF TIME.
*Comments, photos, and report data are not subject to cooperation.
Linkage item
| Cyzen type | Cyzen status name | KING OF TIME |
| --- | --- | --- |
| Start work | (freedom) | Clock in |
| End of work | (freedom) | Clock out |
| On duty | Start break | Start break |
| On duty | End of break | End of break |
Precautions when linking
It is not possible to change the linkage timing.
Even if the cooperation starts in the middle of the month, all the stamped data of the start of the cooperation will be linked.