Please confirm the following setting method and perform the linked setting.
Cooperation function
The daily attendance data compiled by KING OF TIME will be linked to the "almost daily pay/salary supplement". Based on the linked attendance data, the amount of money that can be used on the "almost daily payment/salary supplement" side is calculated.
Advance preparation
If you would like to cooperate, please contact BANQ Co., Ltd.
At that time, KING OF TIME domain information is required. There are the following two types of domains.
・ s2.kingtime.jp
・ s3.kingtime.jp
Please confirm your company's login URL "https://○○ (s2.kingtime.jp / s3.kingtime.jp)/admin" and tell us the domain of the person who matches the ○○ part.
Linkage setting method
1. Click [KING OF TIME Linkage] on the client screen of "Hobonichi Pay-kun, Salary Supplement".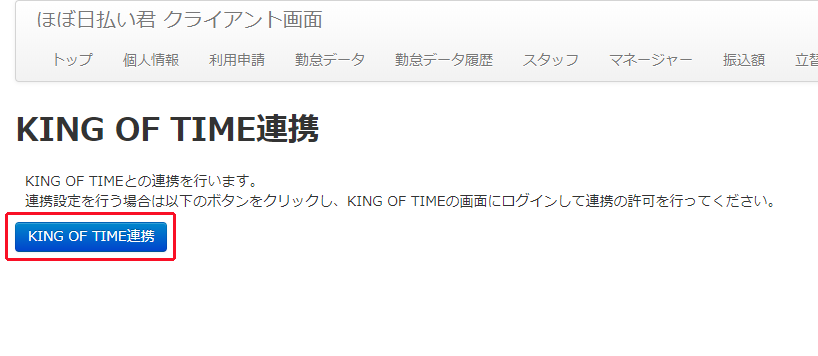 2. When the authentication screen is displayed, enter the login ID and PW of the KING OF TIME plenipotentiary administrator. Please read the terms of use and agreement, check "I agree after confirming", and click [Accept].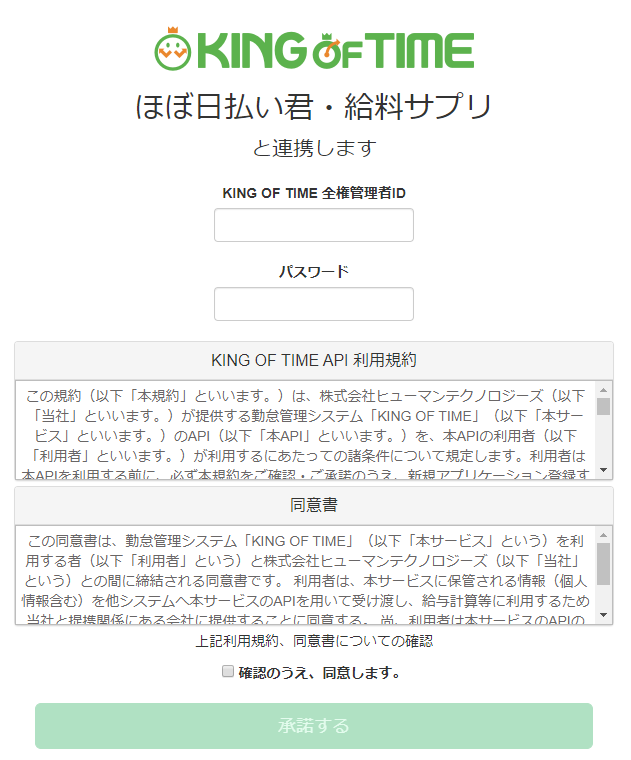 3. When the authentication is successful, the screen returns to the original screen and the link with KING OF TIME is completed. "It will be displayed.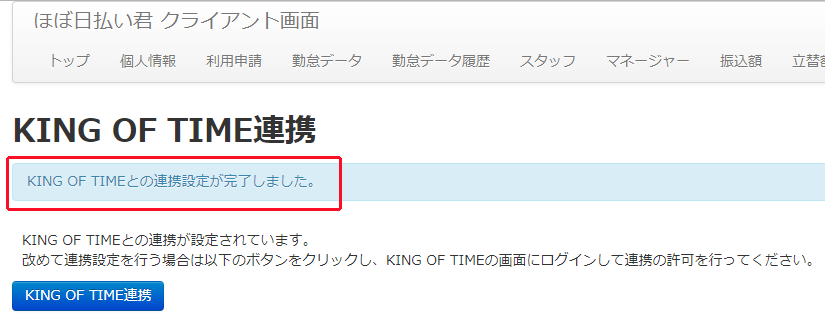 If the authentication fails, the login ID and password of the all-rights administrator may be incorrect. Please check and enter again.
Cooperation method
Automatic cooperation
After setting the link, the daily attendance data will be linked automatically. The execution time is 8:00 and 19:00.
Manual linkage method
From the KING OF TIME side, daily data is output as CSV. Import the exported CSV data from the "Attendance Data" tab of "Hobonichi Pay-kun/Salary Supplement".
Linkage item
| Almost daily payment, salary supplement | KING OF TIME | Remark |
| --- | --- | --- |
| employee number | Employee code | |
| Grant date | Working day | Select "Date" when outputting daily data CSV with KING OF TIME. |
| Actual working hours | Total work (hrs) | |
Precautions when linking
The "time zone classification" and "custom data item" created on KING OF TIME cannot be linked.