Please confirm the following setting method and perform the linked setting.
Cooperation function
KING OF TIME attendance data can be linked to Payme prepayment service Payme . Payroll can be calculated based on the linked information.
Advance preparation
When registering an employee on Peyme, please register the employee number with the same employee code as KING OF TIME. Since it cannot be linked to import employee information from KING OF TIME, the employee number and employee code are linked.
Linkage setting method
Follow the steps below to set up linkage.
1. Payme board screen> Various settings> KING OF TIME linkage> Click the [Link] button.
2. The authentication screen of KING OF TIME will be displayed. After entering the full-right administrator ID and password, click the [Accept] button.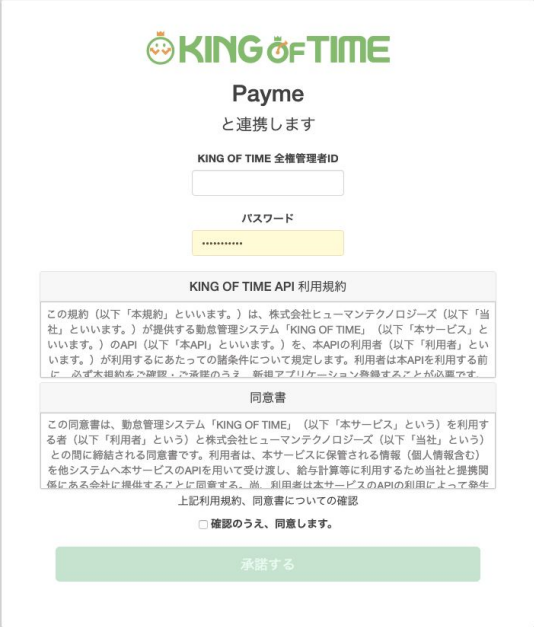 3. You will be returned to the Payme board screen, so if "Token updated successfully" is displayed, the setting is complete.
Synchronization method
The following operations synchronize the time data of KING OF TIME employees.
1. Payme board screen > Time management > Batch registration > Synchronize from KING OF TIME > Select target year > Click Synchronize
Note
This work cannot be done during the following WebAPI time limit.


Time limit 8:30 to 10:00 / 17:30 to 18:30
Linkage item
Monthly sync for the last 3 months

Labor Total for Days Closed by KING OF TIME
* For the attendance with an error in KING OF TIME, the total labor is registered as 0 (zero).
*If you repeat attendance more than once a day, the aggregated data will be reflected.
Note
Once synced, if an administrator unfastens to edit/change attendance, they will need to refasten and then resync.


(If you resynchronize without tightening, the first synchronized data will be overwritten as 0 (zero).)